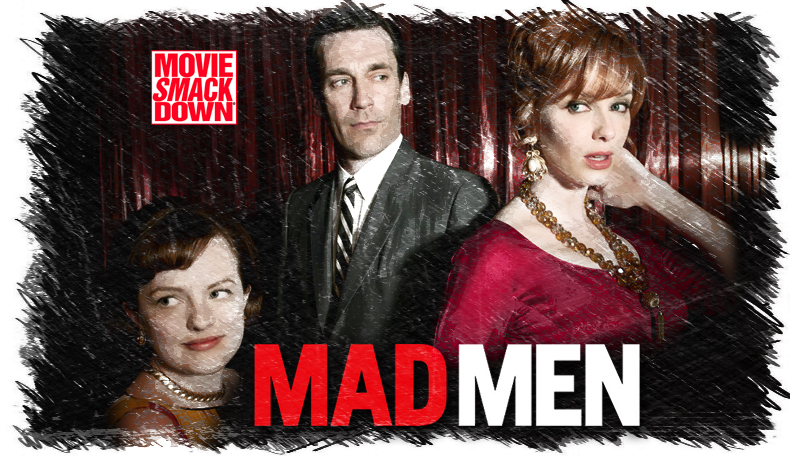 Mike is our virtual gatekeeper to the party here @ The Smack. This is his first piece for Movie Smackdown. Â ~The Editors
Don't get me wrong, I like working the Mad Men parties and premieres. People are civilized there, you know? Easy to talk to, like they respect my particular expertise, even though I may not have attained their super-level of accomplishment just yet.
I was on my way to a Communications degree before I dropped out to tend bar and rule Hollywood's rope lines, so I know I've buried the lead, which is: I just don't get this Mad Men thing.
I work most nights, so I watch TV on my iPad during the day at the gym. And with Mad Men you get 25 percent less heart rate. That's an actual fact. Fifty percent if you compare it to that parkour scene from The Bourne Supremacy. There's just nothing in the show to get worked up about.
Most of the time these people never actually do anything. They talk, look off into the middle distance, then go into each other's offices and talk some more. They drink like it's their last day on Earth, and they light up enough cigarettes that it might be true. And while all the women who play these characters are smokin' hot on the red carpet, onscreen they're about as cold and desperate as a winter in Chicago, which is where I grew up.
And yes, I saw the scene where Jessica Pare sang Zoo-be-zoo-be-do or whatever that song was in the Season Five two-hour that everybody's talking about. Sure, she looked straight-up awesome cleaning Draper's apartment in her little black panties, but is that enough to make people watch a show? (By the way, this is not sour grapes. I love Jonny Hamm, and he deserves all the action he gets, both onscreen and off. We former bartenders always stick together — which is why he even helped me get my SAG card, thank you, Hamm-bone, and CSI Miami!)
The thing is, though, when they thought nobody was listening (which happens a lot doing my job), I heard a couple of studio execs at last year's Emmys talking about how you could get all of the Mad Men viewers into the Nokia Theater and still have enough seats left over for a Dane Cook show. They were just jealous, of course, but that doesn't mean they weren't right.
Somebody explain it to me, please: Why does the media go nuts over this show?