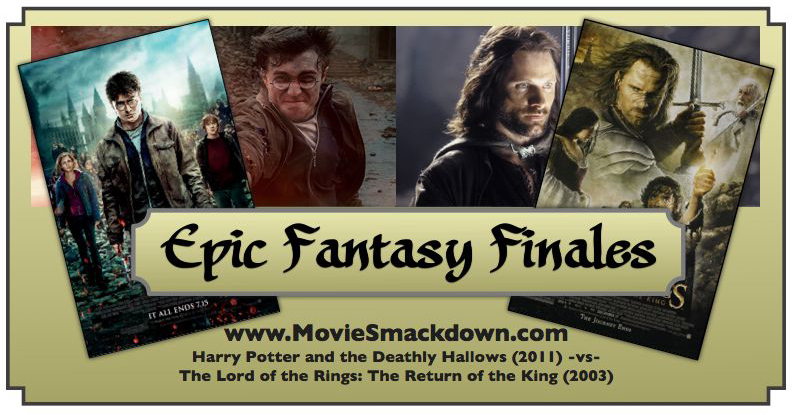 The Smackdown
One finale to rule them all! Two beloved (not to mention lucrative) film franchises come to an end with these offerings and, more momentously, face each other in a Movie Smackdown of truly epic proportions.
The stakes in the two stories are similarly high, with heroes who've had the odds gradually stacked against them to the point of near-impossibility for success. In The Return of the King, the spirit of the evil sorcerer Sauron — in the form of a fiery, all-seeing Eye — lives and schemes for total victory against our vulnerable protagonists. Meanwhile, in Potter-land, Team Harry has to mount a quick and effective defense against Voldemort and his army, who are on the brink of completely taking over the magic world, destroying Hogwarts and killing its good students and faculty.
The sword-wielding, ring-bearing humans, hobbits and elves of Peter Jackson's ultimate Rings face off against the spells and talismans of Harry and his young wizard pals. Which side will prevail?
[singlepic id=1056 w=320 h=240 float=right]
The Challenger
Harry Potter and the Deathly Hallows: Part 2 puts the good guys against the wall immediately. The film opens with Harry, Ron and Hermione in exile far from their peers and mentors at Hogwarts. They must find and destroy the horcruxes — objects in which Voldemort has left pieces of his soul in a bid for immortality. Easier said than done, as the three are wanted by the authorities for their actions in the previous films. They also have to move right away, as Voldemort has steadily gained power to the point where he and his flock are poised to attack and destroy Hogwarts. Life for wizards can be crushingly stressful in hard times. And you think your job is tough.
With the help of allies, trustworthy and otherwise, Harry and Co. manage to find their first horcrux, then discover and sneak into the location where the remaining ones are held — Hogwarts, as it turns out. But then Voldemort and his army launch their attack, and even the shield created by the school's professors (plus a phalanx of some really cool magically-animated knight statues) can't keep the evil horde fully at bay. So Harry, Ron and Hermione, in the midst of their quest to destroy the horcruxes, must also fight in the losing battle for their school.
Non-spoiler alert: To no one's surprise, the confrontation we've waited five movies for finally occurs at the end. Voldemort and Harry go one on one — actually, more than once — but not before our boy learns the complete truth of his origins, and how to finally bring down his evil adversary.
[singlepic id=1066 w=320 h=240 float=right]
The Defending Champion
LOTR: The Return of the King also tips the odds far in favor of the bad guys. Sauron's malevolent spirit is as strong as ever… as is his massive army of bloodthirsty orcs. He sets this horde against Gondor, and it begins to look very possible that the kingdom and human society itself (along with its hobbit, elf and dwarf allies) will be obliterated. The one great hope of men isn't very promising at all: the goofy hobbits Frodo and Sam, who are slowly making their way to Mount Doom in order to destroy the Ring in the volcanic fire where it was created. Further reason for pessimism is provided by Gollum, the treacherous Ring obsessive accompanying the hobbits on their quest, ostensibly as a guide. Gollum professes to be motivated only to help the hobbits and to be cured of his Ring addiction, but Sam correctly suspects otherwise. On top of that, Sauron's spirit manifests itself in a fiery, all-seeing, giant Eye planted on top of a high tower. The hobbits will have to somehow escape its gaze on the way to Mount Doom. The bad guy wants his Ring, and he wants it badly.
So, evil armies on the march against the vastly outnumbered and out-armed (not to mention fractious and low-spirited) human/elf/dwarf/hobbit alliance, an exhausted hobbit dogged by a would-be thief and watched by an omnipotent evil eye… a wise gambler wouldn't put even a single gold piece on the good guys winning.
The Scorecard
Both movies generally find a good balance between exposition and action in the meat of their stories. Rings tends to be heavier on the former because it's so packed with mythology: Tolkien, after all, created an entire world for his sprawling drama to inhabit. By contrast, Rowling's universe is tighter, smaller and more contained, and the exposition consequently lighter. Characters in Rings spend a lot of screen time explaining things, and the movie can sometimes feel sluggish as a result.
In both movies, the action sequences are fast, punchy and exciting, and directors Peter Jackson (Rings) and David Yates (Harry) are to be commended for their fine work in this area. The battle scenes in Rings are longer, the arc of those sequences is higher and the suspense is more drawn out than in the Potter extravaganza. Harry is aimed at a younger audience with a more limited attention span, so these scenes are completed more quickly in order to get to the next plot point.
In terms of tone, Harry wins by a nose (Voldemort's truncated proboscis, at any rate). Despite plenty o' death, destruction and overall violence, Yates' film never loses its light touch and its sprinkling of humor. When headmistress Minerva McGonagall, for example, animates those funky knight statues she declares, "I always wanted to use that spell!" The characters in Rings are too busy questing and saving the human race to crack jokes, although cranky dwarf warrior Gimli has a few good quips from time to time.
On the other hand, Rings has the better and more consistent pacing of the two. In Harry, the action sequences peak early, with the battle for Hogwarts subsiding around two-thirds of the way through the movie. This is necessary because of the heavier amount of exposition at the end, where Harry's story through eight movies has to be wrapped up and its numerous loose ends sealed tight. But necessity in this case isn't the mother of good movie rhythm, and Harry starts to feel draggy toward the conclusion. Its 130 minutes end up feeling much longer than the three-plus hours of Jackson's movie. Additionally, because it's already taken care of much of the exposition and its pacing is more consistent and well-modulated throughout, the conclusion of Rings feels more cathartic and triumphant.
The Decision
Both movies are fine conclusions to their respective franchises, completing their stories in a satisfying way that leaves few, if any, loose ends. They are made by expert filmmakers who can tell cinematic tales well and keep audiences in suspense while navigating effectively from plot point to plot point. Also, both Jackson and Yates (plus their respective screenwriter collaborators Fran Walsh/Philippa Boyens and Steve Kloves) are to be commended for packing a large amount of mythology and back story into a relatively tight package of a two- or three-hour movie.
This is where the two films diverge, however. Rings' mythology occasionally weighs it down in dry stretches of grim-faced dialogue and exposition, but the rousing action sequences and strong forward plot momentum keep the audience going through to the end. Harry, meanwhile, sputters a little as it reaches its conclusion, with much exposition and plot development back-loaded in the final reel. Despite a fun epilogue set nearly 20 years after the events in the movie, it can't quite overcome this weakness to put its opponent away. So in this Smackdown, the armored, sword-gripping hand raised in victory belongs to The Lord of the Rings: The Return of the King.